Few things:
New Food Item added later this week
So in a effort to add some stuff to the live server in the mean time, we will be adding a new food item this weekend that was created by Postman. This should help alot with food issues and such.
Patch Notes
Some Patch Notes so far, you can get the more up to date list here.
Replaced Datastreams with new net code
Old dcoloredbox.lua now included in gamemode
Fixed Admin menu (was broekn due to derma changes)
Fixed Community Menu
Fixed Tab Icons (silkicons) and changed a few
Fixed Inventory
Fixed Car Inventory
Fixed Trade Menu
Fixed Equipment menu
Fixed 357 ammo
Fixed Skills menu
Fixed Prop block menu
Fixed HUD Font Issue
Spawn grid converted to SQL
Inventory converted to SQL
Community converted to SQL
Player Data converted to SQL
New Community Titles
New RP Names added
New Profile system added
New Profile Picker menu added at startup
New HUD added (pnrp_HUD 3)
Construction system re-write
World Cache SQL Update
Processes removed
Press E on resources auto swaps to hands
Progress bar added to Gathering
Progress bar added to Construction
Resources now is based on number of tries than amount of resources
Items can now be hidden from the shop menu (Oranges)
Beta Testing
In the near future we will start opening up the Dev server for beta testing. To be eligible, you will need to be at least respected or above on the Live PostNukeRP server. You will also need a Garrys Mod 13 beta key, if you do not have one, you can try to pick on up next weekend. Watch Garry's Twitter for more details on when they will be released.
Just remember, just becouse you have a key, does not mean you gain access to the server. I will post more on this when we get closer to beta testing.
As you know we have been working on PNRP alot recently. So far the patching is going good, we have converted most ofthe systems to SQL, Lost is currently working on Grubs, and the new profle system should be in place.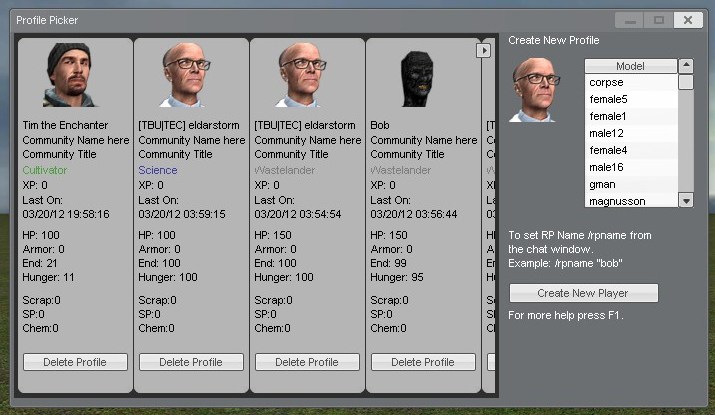 At long last, Beta 2 of Wasted Waters is out. It has allready been uploaded to the live server and is ready for use.
The main point of this version is to test the lag fixes that have been done to the map.
The lighting on the map has been updated. I know there are a few issues on this map and they will be fixed on beta 3.
Some known issues:
Big shadows in the hanger
Various Soundscape issues
Weather cariable will probably be adjusted more later on.
Good news and Bad news
Good news is, updates are going good on PNRP, we got alot done tonight. The HUD issues are fixed, Weapon Icons are fixed, Spawn Grid is now fixed. We had a glon issue with the Spawn Grid, so we made that system the first one to be moved to sqlLight.
Hud issue was with the font we were using, it seems to be bugged, so we are now using a new one. Weapon issue is a similar issue, but is now fixed.
Medium News: With moving the spawn grid to SQL, we will have to redo the spawn grids for the maps (not a big deal really)
Bad News: In light of the fact that there are currently 7780 files at about 2MB in the Player Save folder only (Thats not counting Inventory files), player data will be lost in this update.
I know that this will make a few mad, and it was not a light decision by me and Lost, but with that many files it will be near to impossible to import them into the new SQL system. As it is, that many player files is one of the reasons it lags so much when a player connects. Just creating a function to try and make a list of everyone who has joined crashes the server.
So, keep in mind, this is Beta. The new system on top of the new net code from Garry will make it run a whole lot faster.
And no, we will not be reimbursing player inventories when the server us updates, to do so on this scale is unreasonable and near to impossible, so please dont ask us to.
pn_revelation_beta_3 is available for download in the Downloads section, and is available for use on the PNRP Server as well.
Thanks goes to CrazyKid for building this great map, keep up the good work.
Yes, I said twitter. Never really had a need to use it really, but now it seems I do. I apreciate all the PMs I get asking for updates, but I realized this was a better means of a more active update method. You can follow be at http://twitter.com/eldarstorm
As for updates, here it goes:
Datastream to Net code conversion – Done
Derma issues – Not so much. Its beeing a pain.
Other issues due to the new changes – Not as bad as I thouht. No idea at the moment TBH
Ok, the las bullet is true, I thought it was rather bad untill I setup a dedicated Dev server running beta, after that, alot of the issues went away. We did not really build PNRP to run off of singleplayer.
Kind of game news in a way, since some of the map makers in the PostNukeRP Community use this site to transfer map files.
Today Megaupload.com was taken down by the Justice Department. According to the site linked below, thay are suspected to be involved with "the Mega Conspiracy"
The indictment accuses the suspects of being members of "the Mega Conspiracy, a worldwide criminal organization whose members engaged in criminal copyright infringement and money laundering on a massive scale."
In retaliation for this attack Anonymous brought down the sites for the Department of Justice, Universal Music Group, RIAA and Motion Picture Association of America.
More information here
Just thought I would post this out there for the few that do check the site.
Edit: More info about the indictment on Megaupload: Ars Technica
Posting this since not everyone seems to check the forums for current updated info.
PostNukrRP is not dead. We have held off on new updates and fixes in light of the upcomming changes for Garrys Mod. For those who do not know, the next update will break alot of addons and gamemodes since it will affect the way it communicates.
I have managed to get a beta key, so I will be looking into it shortly. LostInTheWired still is unable to get online as of right now, but has been working on code in the mean time.
You can find alot of this info and activity on the forums.
UPDATE:
Tested PNRP with the new Garrys Mod Beta. It is confermed, the update will break PostNukrRP, but its what we expected. The errors that I got during the test are the errors that I expected. Soon we will start the process of converting PNRP from datastreams to the new netcode. It is my hopes that we will be able to have the Patch live when the new version of Garrys Mod goes live.
Bit off the beaten track from the stuff I generally post, but I thought I would give the world a bit of fair warning about these guys.
As you know TBU (The Builders Union) has a Minecraft server. In a effort to improve performance and stability we looked at a few VPS Hosters, one in particular had some good prices. One of those cases of too good to be true it seems.
The hoster in question is http://alienvps.com/. By no means would I ever recommend these guys. Their site indicates that you get "Instant setup" when you purchase a server. It has now been almost 48 hours since we purchased the server and still no setup. To answer some of the devils advocates out there, they charged and received payment shortly after purchase, so no wait there for them getting their money. I understand that its a holiday weekend, but two things on that. One, we purchased this Wed night, and they never responded saying they were gone or anything. I have been in contact with their Live chat several times, and the popular response that I get is "you will get your email soon". We have placed a ticket with their billing, and have made attempts to contact them through live chat, but it seems even the people on their support chat cant get a response from their own billing department.
All in all, rants aside. I would not suggest these guys, and they should at least remove the "Instant setup" bit from their page.
Current Issue First:
Engine Error Client.dll Init() in library client failed.
This means two things basically, both real bad at the moment. Client crash on startup, and so do servers. Valve released a client update yesterday that broke GMod. According to Garry, he is aware of it, and is working to resolve the issue. So, looks like we get to wait.
Garrys Mod 13
Alot of changes seems to be slated for this update, including its own engine. One thing the PNRP team will be looking at with this update is a larg rewright of the gamemode. Its something we have thought about in the past, especially before releasing it, but we wanted to add a few things first. Well, looks like the rewright will be taken priority. When 13 comes out, it will probably terminally break PostNukeRP. The main reason it will break it is Garry removing Datastreams. This is what we use to make most of the client/server sides talk to each other.
This will also mean that a larg portion of everything else will probably break as well. At least untill everything is recoded to use the new net code stuff.
If this crashes PNRP as I fear it will, the PNRP server will be swapped over to build untill we have fixed the issue.